Enabling Your Employees To Become Change Makers – by Deloitte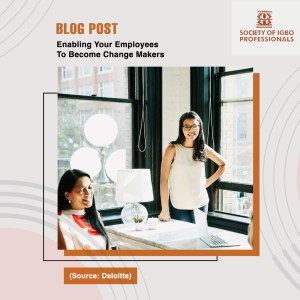 When you look at your youngest employees, you're peering into your companies' futures and witnessing the real-time development of individuals who will someday lead —and potentially reinvent—your industries. But, if that's all you see, then look closer.
When I look around Deloitte, I see people who can positively influence society and change our world for the better. It's not because I'm biased or that our twenty-something professionals are any different than yours. I'm just considering the data.
In Deloitte Global's January 2018 report, "The Fourth Industrial Revolution is here—are you ready?" a large majority of global CXOs told us they believe business will have the most influence on how Industry 4.0 will shape society. And in Deloitte Global's 2018 Millennial Survey, three-quarters of young workers from around the world said multinational corporations have the most potential to help solve society's economic, environmental and social challenges.
No matter where people are in their careers, they view business—not government, but business—as the entity most capable of tackling the world's biggest problems. It follows that if young people are the future of business, then they're also the ones who hold society's potential within their collective grasp.
So as employers, we have an opportunity to do more than merely help our people develop the technical skills they need to do their jobs. We can nurture leaders who want to positively impact the world and who have the capabilities to make a difference.
In the past year, Deloitte hired more than 77,000 individuals globally, most of whom were younger than 30. Another 17,500 interns spent time learning from our people. Equally important, though, is what we learn from them. It's clear that, in addition to job skills, they want the ability to grow their passions beyond the office. They want to have a positive impact on society. And they want real-life experiences that teach them confidence, motivation, ethics, integrity and interpersonal skills.
One of the ways Deloitte combines these motivators is through our support of One Young World (OYW), an organization that brings together young leaders and empowers them to make lasting connections to create positive change. Deloitte Global also sponsors OYW's Lead2030 Challenge for SDG4—quality education, which calls for innovative youth-led solutions to issues related to lifelong learning, entrepreneurship, and access to education and skills-development opportunities.
The annual OYW Summit, which is being held this week in the Netherlands, brings together thousands of high-potential young people. This year, we sent a delegation of 42 Deloitte professionals and five nonprofit representatives to the summit. The Deloitte delegation is made up of incredibly impressive individuals who not only excel at their day jobs but also commit their time and efforts to improve society.
Oyewale Oluwabamise is one of those professionals. At work, she's an Audit Senior in Deloitte Nigeria and part of the Deloitte Africa Millennial Board, 2018. Away from work, Oluwabamise volunteers at the Girl Hub Africa, a professional network that aims to reduce the number of unemployed female youths by exposing them to volunteering opportunities. She's also an alumnus of Enactus Nigeria, an organization dedicated to creating a better world while developing the next generation of entrepreneurial leaders and social innovators.
Nicholas Chamberlain is another of our delegates. A Senior Consultant in the Deloitte Canada Risk Advisory practice, Nick supports diversity and inclusion efforts both within his firm and externally. He has led Deloitte Canada's "International Day of Pink" initiatives in the Atlantic Region and has championed many other Pride related activities as the Atlantic Chair of the Deloitte Pride Community. Outside of the office, Nick strives to create impactful experiences for youth in his community.
Oluwabamise, Nick and their fellow attendees not only are engaging with other bright minds from around the world and all walks of life, but they also are learning from inspirational speakers from government, nonprofits, business and entertainment regarding key global issues. Among the presenters is our own David Sproul, CEO of Deloitte North-West Europe and the UK. He and one of Deloitte's nonprofit delegates, Jamira Burley, Head of Youth Engagement and Skills at the Global Business Coalition for Education, will discuss how business can address the youth skills gap.
The One Young World experience does not stop after the summit. Deloitte delegates are expected to bring their enthusiasm and learning back to their offices and communities, and commit to projects that support Deloitte's WorldClass ambition globally. Through WorldClass, we are applying our experience in developing talent to empower 50 million people by 2030 through education, skills development and access to opportunity.
That's a tall order. But, I'm confident we'll get there because when I look at our young people, I see our future leaders. I see committed citizens. And, most of all, I see hope for a better tomorrow.